The truth is, as a family, we ate fish sticks for years, and loved them, but they're a really unhealthy choice.  As we discovered the health consequences of eating processed foods, and particularly hydrogenated oil, we switched to eating plain, fresh, fish fillets.  These were cooked either in a pan or baked in the oven.  Currently our preferred method of cooking fish is steaming.  Steaming produces a very moist fish and is very good, but plain fish gets old fast and we've been looking for different ways to enjoy fish.  We decided to try fish cakes.




Fish cakes are really quite easy to make and taste great when you make them yourself from fresh ingredients.  Adding your own preferred spices lets you adjust the flavor to your taste.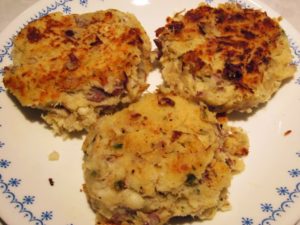 Ingredients:


4 medium potatoes (I like to leave the skins on. You could use mashed cauliflower if you want to reduce the starch)
3 fillets (I used cod.  The fillets were about 6 inches long, approx. 3-4 oz each.  Always  choose wild-caught deep sea fish for the healthiest choice.  )
2 eggs
1/4 cup sliced red onion
1/4 cup sliced green onion
1 tblsp minced garlic
black pepper
parsley
butter
1 lemon
Brown rice flower




Instructions:


Cook the potatoes and fish.  I like to steam them but you can cook them however you like.
While they are cooking saute the onions and garlic in butter.
When the potatoes and fish are cooked, mash the potatoes and flake the fish into the mashed potatoes.  You'll find the fish will flake very easily.
Stir in the 

sauteed

 onions, pepper, and parsley.
Beat the eggs in a separate bowl and then mix them in.  The eggs help to hold the mixture together.
Zest the lemon and add to the mixture.
Now sprinkle a little flour on a cutting board and spoon a patty sized quantity of the fish cake mixture onto the flour.  Sprinkle a little additional flour onto the top of the mixture.  Form into cakes about 1/2 to 3/4 inches thick.  Repeat for the rest of the mixture.  
The cakes will hold together better if you put them in the frig for an hour, but it's not a necessity.
Now just melt some butter in a frying pan and brown on each side.  Cook them for 3-4 minutes on each side.


This recipe makes 6-7 cakes.  If you have extra they can be frozen.


This post is part of Fight Back Friday, Monday Mania, and Real Food Wednesday.  



Written by Peter Wright

I'm on a mission to help you prevent and reverse chronic illness by utilizing nutrition to restore your body's natural balance.

Contact me directly for a free 30 minute consultation.

Latest posts by Peter Wright, NTP, CGP (see all)