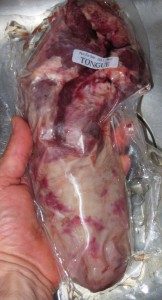 Raw Cow Tongue
If you have purchased a half or whole cow from an organic farmer you will likely receive the animals organs along with the meat.  These organs can be prepared in many delicious ways that are both a nutrient dense and healthy choice when derived from grass-fed, organic animals. In addition to liver, kidney, and heart, you may find a tongue included with your cow's organs.


As a culture we have become adverse to eating organs but there was a time, even in our culture, when they were prized for their dense nutrition.


In this post I'll detail my first attempt at preparing cow tongue.  I'll explain the recipe I used and my first cow tongue taste experience.
Cow's tongue can be very tough if not properly prepared.  Brining is a process similar to marinating but uses a strong salt water solution to hydrate the meat.  The solution also breaks down the cellular structure of the proteins in the meat, making the meat more tender.  I can attest, based on this experience, that brining is a very effective meat tenderizer.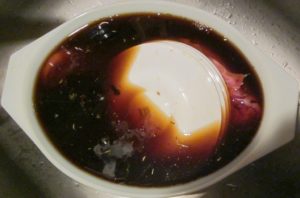 Tongue Immersed in Brine


Ingredients:
 
BRINE
2 quarts water
1/2 cup honey
1-1/2 tbsp molasses
1-1/4 cup sea salt
6 cloves
1 tbsp black pepper
1/2 tsp thyme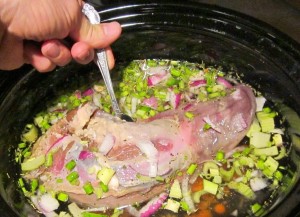 Brined Tongue Added to Crockpot


SLOW COOKER
1/2 cup chopped parsley
1 cup diced carrots
1/4 cup chopped chives
1 chopped onion
2-4 chopped celery stalks
1 tbsp minced garlic
1 tsp thyme
1 tbsp black pepper 
water to cover 






Directions:
 BRINE 
The honey will dissolve best in lukewarm water.  Pour the water in a large pan and heat until lukewarm.  Stir in the honey and once it is dissolved add the molasses and increase the heat until the liquid boils.  Add the salt and stir until dissolved, then add the remaining ingredients.  Let it boil for a few minutes, stirring occasionally, then set it aside to cool.  Once cool, place the thawed and washed cow's tongue in a non-metallic container and poor the brine over it.  The tongue will float, so you'll need to weight it down.  I used a few small plates.  Now cover the container and place in your refrigerator.  I left the tongue in the brine for 7 days but, based on how soft the meat was after cooking, I would reduce this time to maybe 4 days.

SLOW COOKER
After the brine is completed.  Add the tongue and all ingredients in the crock pot.  Cover with water.  I cooked the tongue for about 4 hours once it began simmering.  You can test it occasionally by pressing a fork into it.

Once the cooking is completed you'll need to peel the skin from the tongue.  The skin will peel off easily after cooking and is amazingly thick.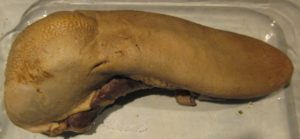 Cooked Tongue before Peeling Skin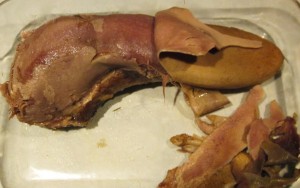 Peeling the Tongue










































The tongue looks shockingly like a great big tongue.  I must admit I had a moments hesitation at this step in the process, but only a moment.  As soon as you slice the tongue up it loses its "tongue-i-ness" and just looks like meat.  I thought it looked like and had the texture of roast beef.
Sliced Tongue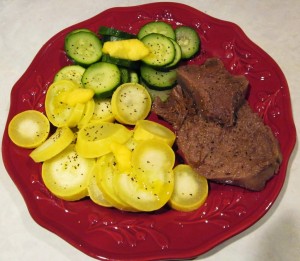 Summer Squash, Zucchini, and Cow's Tongue
The flavor was quite good.  No particular taste that was distinct.  I think you could fool your friends into thinking it was, in fact, roast beef.  It did have a hint of saltiness which may have been due to the length of the brine.  As I said earlier, I do think the brining process should be shortened.  The meat was softer than I prefer and I think a shorter brine would solve this.


Once cooked to this point the tongue can also be grilled, fried, or used in a sandwich.


I plan to try frying some also.  I quite enjoyed eating the tongue and fortunately have another waiting in my freezer!






This post is part of Fight Back Friday, Monday Mania, and Real Food Wednesday.


Written by Peter Wright

I'm on a mission to help you prevent and reverse chronic illness by utilizing nutrition to restore your body's natural balance.

Contact me directly for a free 30 minute consultation.

Latest posts by Peter Wright, NTP, CGP (see all)