OUR FIRST GOOSE EGGS!


This was our first experience with goose eggs and I thought they tasted great.  Our usual three "chicken" egg omelet became a one "goose" egg omelet.  Although some claim duck eggs have a stronger flavor than chicken eggs, I can't say I noticed any difference in taste.  However, the texture did seem a tiny bit firmer than a chicken egg omelet.  Many claim this slightly stiffer texture makes them great for baking 'loftier' baked goods.


You can expect a single goose egg to yield as much as three to four chicken eggs.  The shell is noticeably thicker than a chicken egg and will take a significant whack to crack!  The thicker shell can extend the shelf life up to six weeks in the frig.  Many people with allergies to eggs are able to eat goose eggs.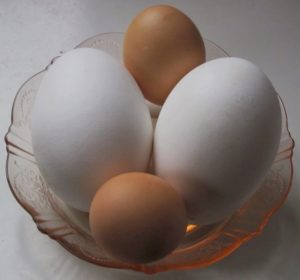 GOOSE EGGS ARE MORE NUTRIENT DENSE THAN CHICKEN EGGS!


The percentages below show the increase in nutrient content of goose eggs over chicken eggs  when consuming equal amounts of each.  It's clear the goose eggs are considerably higher in nutrition.  


Make sure you buy your goose eggs from a farmer you know who is pasturing the geese so the fat and nutrients are healthy.  Goose eggs are twice as high in monounsaturated fat and nearly the same in saturated and polyunsaturated fat.






Macro Nutrients
Vitamins
Minerals
Protein
3%
Thiamin
152%
Calcium
31%
Fat
37%
Riboflavin
-20%
Iron
167%
Carbs
19%
Niacin
174%
Magnesium
70%
Pantothenic acid
48%
Phosphorus
24%
Vitamin B-6
80%
Potassium
83%
Folate
70%
Sodium
16%
Vitamin B-12
440%
Zinc
28%
Vitamin A, IU
109%
Copper
343%
Retinol
109%
Manganese
58%
Vitamin D
none
Selenium
18%




THE COST
You can expect to pay more for goose eggs.  Ducks, being waterfowl, have different laying patterns than chickens and lay significantly fewer eggs per year making them more costly.  Ducks are also more challenging to manage.  They lay their eggs wherever they feel like it, not in a convenient nest like a chicken.  They particularly like to lay their eggs in mud as the eggs require greater humidity to hatch.  This can add to the cost of cleaning the eggs.


Don't let this scare you away from this terrific, nutrient dense, whole food.  Check with your local farmers, stretch your wings, and try some goose eggs.  You won't be sorry.


Written by Peter Wright






This post is part of Fight Back Friday, Monday Mania, and Real Food Wednesday.





I'm on a mission to help you prevent and reverse chronic illness by utilizing nutrition to restore your body's natural balance.

Contact me directly for a free 30 minute consultation.

Latest posts by Peter Wright, NTP, CGP (see all)