My love affair with kale has a really short history.  It goes something like this; average weekly servings of kale for the 
first 47 years of my life
= 0.00, 
average weekly servings of kale for 
48th year of life = 3 to 4.  What can I say except with age comes wisdom.  I like kale so much I've been looking for ways to eat more.  Kale chips are something I've read about and wanted to try.  
I looked online at several recipes but didn't like the methods described for applying oil to the leaves.  Drizzling or shaking in a bag didn't seem like an effective method for a nice even coating.  Read on to discover what I feel is a much better method.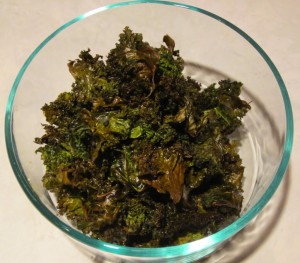 How to Spray Oil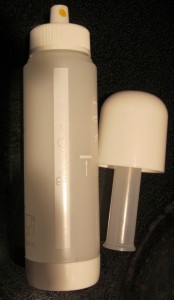 The perfect solution to coating the leaves with oil is The Pampered Chef Kitchen Spritzer
 . This little device uses a pump handle, not aerosol,  and your own oil to produce a perfect spray mist.  It's really quite cool. 
I poured about an ounce and a half of extra-virgin, cold-pressed olive oil into the spray bottle.  Then I added a little vinegar, maybe a tablespoon.  Placed the cap on the bottle and pumped it five or six times.  It sprays just like an aerosol.
When finished, I poured out the leftover oil and saved it for a salad dressing.  I ran a little hot soapy water through the spritzer and sprayed it a couple times to clean it out.
The Recipe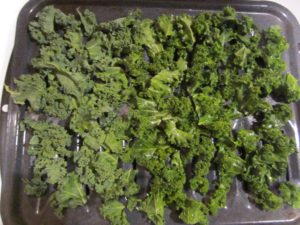 I preheated the oven to 300 degrees.  I tore the kale leaves from the stems by hand and placed them on a pan.  I used the spritzer to spray one side of the leaves.  In the picture you can see the right half of the leaves have been sprayed.
After the leaves were completely covered, I shook a little sea salt on them, then turned them over by hand and repeated on the other side.  You could use any spices you like.
Then into the oven for about 25 minutes until fully crisp.  You'll have to watch them fairly closely in the oven.  There's a fine line between crisp and burnt!
An air-tight container is best for storage.  The kale is quite delicate after baking and I'm afraid putting them in a ziplock bag would result in a bagful of crumbs.
The Benefits of Eating Kale
high in Vitamin K, A, and C

contains 45 different flavenoids (anti-oxidant and anti-cancer properties)

high in fiber

excellent source of calcium
Please, don't wait 47 years to try kale!  Have some today!
Written by Peter Wright

I'm on a mission to help you prevent and reverse chronic illness by utilizing nutrition to restore your body's natural balance.

Contact me directly for a free 30 minute consultation.

Latest posts by Peter Wright, NTP, CGP (see all)