Mashed cauliflower is a great substitute for rice or mashed potato. Whether your looking for a low-carb, or low low-calorie alternative, or just looking for something different, this really tastes great and it's easy to make.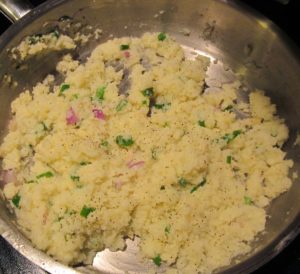 Mashed Cauliflower




My first attempts at this side dish were too watery and didn't have the "stiff" consistency of mashed potatoes. I considered a number of options to remedy this but settled on frying, which solved the problem and lends itself well to adding some additional flavors.


You truly could pass this off as mashed potato as the flavor is very close. You may even like it better!

Here is a macro nutrient comparison to other similar side dishes;

1 cup of;
Rice = 160 cal, 3g protein, 37g carbs, 0g fat
Potato = 135 cal, 3g protein, 32g carbs, 0g fat
Cauliflower = 28 cal, 2g protein, 5g carbs, 1g fat
Cauliflower is a cruciferous vegetable which studies have shown to both prevent cancer and reduce cancer growth. It is high in potassium, folic acid and vitamin C as well as many phytonutrients.


Ingredients:

1 head of cauliflower
1/8 cup green onion
1/4 cup red onion
oregano
sage
basil
thyme
rosemary
marjoram
salt
black pepper
4 Tbsp olive oil
2 Tbsp butter
1 tsp garlic clove, minced
Directions:

Steam or boil 1 head of cauliflower until soft.
While cauliflower is cooking, sauté red onions in olive oil and garlic in a large frying pan.
Add spices as desired.
When cauliflower is done, drain water off, place in bowl and mash with potato masher.
Add finely diced green onions while mashing.
Once the red onions have softened, add the cauliflower and green onion mixture to the frying pan.
Stir and let any excess water in the cauliflower boil off.
Stir in the butter and serve.
This recipe makes enough to serve two people.



I'm on a mission to help you prevent and reverse chronic illness by utilizing nutrition to restore your body's natural balance.

Contact me directly for a free 30 minute consultation.

Latest posts by Peter Wright, NTP, CGP (see all)