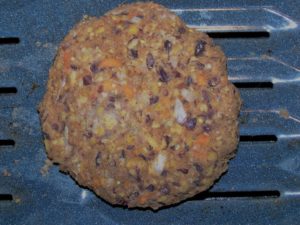 Veggie Burger




This recipe is a work in progress.  The burgers taste great, but don't hold together quite as well as I think they should.  I like to make a batch and freeze them.  It's the only healthy fast food  I know of.  This make 4-6 burgers depending on how you shape the burgers.
Ingredients:


DRY INGREDIENTS
1 tempeh block
1 canned black beans, undrained
2 vidalia onion
2 carrots
2 cloves of garlic
2 Tbsp rice flour
1 tsp sea salt
black pepper
2 tsp Bragg's Liquid Amino Acid
dried oregano
parsley
2 Tbsp cummin
sage

BINDING
1 Tbsp + 1 tsp flax meal
2/3 cup tahinni (sunflower seed paste)
1/4 cup olive oil
Directions:
Drain beans and place in bowl. Mash with fork. Grate other vegetables. Add other dry ingredient and mix by hand.
Make the tahinni by combining 1/4 cup oil with 1 cup sunflower seeds and blend into a paste. Leftover tahinni can be stored in refrigerator.
Mix binding in a bowl. Let sit for 5-10 minutes while flax becomes gooey.
Combine binding with dry ingredient.
Bake in oven 15 minutes @ 325. Remove and freeze for later use or fry or grill.


This post is part of Fight Back Friday.

Written by Peter Wright

I'm on a mission to help you prevent and reverse chronic illness by utilizing nutrition to restore your body's natural balance.

Contact me directly for a free 30 minute consultation.

Latest posts by Peter Wright, NTP, CGP (see all)