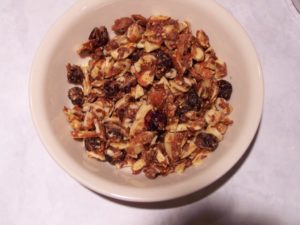 Grain Free Granola
This is a good recipe if you are gluten-free or eating a paleo diet.  I like to eat this with either plain yogurt or kefir.

Ingredients:
 
BINDING
1 cup figs
2 apples
1 Tbsp + 1 tsp coconut oil
1/2 tsp sea salt
2 tsp cinnamon
1/4 cup honey
1/4 cup orange or lemon zest
1/4 cup lemon juice
1 Tbsp nutmeg
2 Tbsp vanilla extract
 
GRANOLA
4 cups Sliced Almonds
1 1/2 cups flax seeds
1/2 cup raisins
1/2 cup craisins

Directions:
 
BINDING
Put all ingredients in blender. Blend until smooth. This will be quite thick, about like apple sauce.

GRANOLA
Submerse the flax seeds in water and let them soak for an hour or more until thick and gooey. Place dry ingredients in large bowl and fold in the flax seeds. Add binding syrup. Mix thoroughly. A large wooden spoon works well for this. Spread on parchment paper on dehydrator trays no more than 1/2 inch thick. It can be a solid layer. Dehydrate 6 hrs, break the solid layer up a bit and flip over. Dehydrate another 3 hours.

Makes 2 dehydrator trays.  I usually double this recipe and it fills a little more than (2) two quart jars.
This post is part of Fight Back Friday, Monday Mania, and Real Food Wednesday.


Written by Peter Wright

I'm on a mission to help you prevent and reverse chronic illness by utilizing nutrition to restore your body's natural balance.

Contact me directly for a free 30 minute consultation.

Latest posts by Peter Wright, NTP, CGP (see all)