HEALTH RISKS OF PROLONGED SITTING
Numerous medical studies have thoroughly documented the negative effects of prolonged sitting.  These negative effects include;
– A substantial increase in your risk for obesity, diabetes, and heart disease
– Prolonged sitting counteracts the effect of exercise.  Those who exercise but spend most of their day sitting lose the positive impact of the exercise.
– The inactivity of your musculature makes it a perfect weight-GAIN non-activity. Standing burns 50 more calories per hour than sitting.
– Your lymph system, which clears your body of waste, is flushed through muscular activity. This system operates ineffectively when sitting, making it difficult for your body to remove toxins.
– Studies have demonstrated that lipoprotein lipase, which aids in metabolizing fat, is only generated through muscular activity.
As shocking as it may sound, some medical professionals have called prolonged sitting as dangerous as cigarette smoking!
see http://www.marksdailyapple.com/standing-at-work/ for additional information
WHAT CAN YOU DO TO AVOID PROLONGED SITTING
If you have a desk job you may feel you have no option but to sit all day.  However, there are a number of things you can do to avoid prolonged sitting at work. These easily can be incorporated into your workday without interrupting your workflow.
– Take phone calls standing up.  If you have access to a headset, all the better, but if not, you can still stand for at least some of your calls.
– Use a printer that requires you to get up and walk.  If you have your own printer on your desk, consider printing to a shared printer located further away.
– Go for a walk during your lunch hour.  If you opt for a half hour lunch but could take a full hour change to the full hour and go for a walk.  It will benefit you physically and mentally.

– Consider using a standing desk.  It's not necessary to buy a special desk.  If you work on a laptop you can easily position the laptop on a box or boxes, or a low stand, and work at least part of your day standing.  If you work with a desktop pc you can buy an inexpensive display splitter which will allow you to connect two monitors to your pc.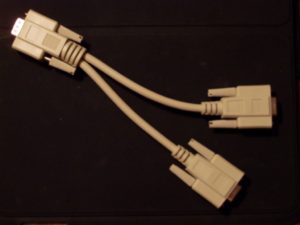 Display Splitter
Position the extra monitor on top of boxes, or a low shelf, within reach of your keyboard.  If you have a wireless keyboard and mouse, that makes it easier, but it can work equally well with a wired keyboard and mouse.





MY EXPERIENCE WITH A STANDING DESK AT WORK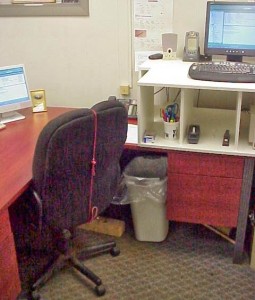 Standing Desk
 Here is an example of a set-up I've used.  The keyboard and mouse were wireless so I could easily move from standing to sitting.  Note the white shelf used to support the monitor in the standing position.  This is a press-board shelf from Wal-mart.  The stand came in pieces that screw together which made it easy to bring to work.  My preference is to retain my sitting option so I have always used the additional monitor set-up.  While co-workers often greet the configuration with quizzical looks, many express a desire for a similar set-up.  

I find it does take a bit of getting used to.  You will definitely feel it in your legs and feet.  Standing requires muscular effort!  It's best to build-up slowly by starting with short periods of 30 minutes to an hour.  Initially, I began using a standing desk to deal with low back pain, and it did help.  I find it very difficult to retain good posture when sitting for long periods.  Perhaps a lifetime of slouching and hunching-over is deeply ingrained in me.  It's such a welcome relief to be able to stand. I love my standing desk!

SETTING UP YOUR OWN STANDING DESK 
I recommend converting an existing desk or table as the least cost and easiest way to obtain a standing desk.  The key element is a box or small shelf (see above photo) of the proper height to raise your monitor and keyboard.  I've even constructed temporary standing desks by utilizing cardboard file boxes, which happen to work reasonably well for my height.   Its important to get your standing desk the right height for you.  You'll need to experiment a bit and its best to work this out at home before trying it at work.  Start with a table the same height as the one you'll convert at work.  Stack up some boxes and place a keyboard on top.  You need a height which will allow you to type with your forearms parallel to the floor.  Once you determine the right height, record the measurement.  Now you can look on-line or at Wal-mart for a small stand or shelf of this exact measurement.  The one shown in the photo assembles with just a few screws making it easy to transport. You may also need a small stand to raise the monitor so your head is not tilted down. Apply the same ergonomics as you would from a sitting position.  Give it a try!  You'll be well on your way to a healthier body and will be burning calories and exercising without even trying!
Written by Peter Wright

I'm on a mission to help you prevent and reverse chronic illness by utilizing nutrition to restore your body's natural balance.

Contact me directly for a free 30 minute consultation.

Latest posts by Peter Wright, NTP, CGP (see all)